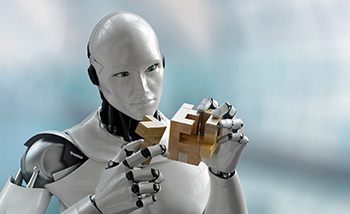 In recent years, AI (Artificial Intelligence) has been gaining increased attention and is being seen as a key technology of the 4th industrial revolution.
Whereas AI has only been a concept brought about from movies, TV shows, or books – robots and voice assistants equipped with AI are steadily becoming a part of our daily lives.
Recently, with the advancement of deep learning, further innovations are expected in making production systems more efficient and automated.

Meanwhile, several exhibitions and event conferences will be taking place to present new technology and the latest information from leading companies and early adapters – AI will only gain further attention and interest.

This post will focus on those events that will happen domestically and overseas.
Domestic Events
---
Japan's First Artificial Intelligence Special Exhibition –
1st AI EXPO
---

The 1st AI Expo is the first domestic exhibition focusing on artificial intelligence which is being organized by Reed Exhibitions Japan, a leading domestic exhibition organizer.

In 2016, "Artificial Intelligence World" was part of the Content Tokyo 2016 exhibition which was also organized by Reed Exhibitions Japan. However, in 2017, a more special exhibition is being dedicated to AI technology and information.

The exhibition will cover and showcase several aspects regarding artificial intelligence such as machine learning, deep learning, neural networks, natural language processing, and a few others. Also, a comprehensive conference schedule is being planned with several keynote speakers.

Event:1st AI EXPO
Dates:June 28-30, 2017
Venue:Tokyo Big Sight
Organizer:Reed Exhibitions Japan Ltd.
---
Special Exhibition on the Business Use of AI – Business AI 2017
---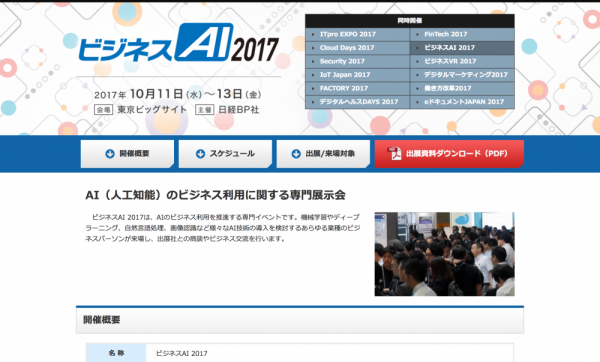 Business AI is a specialized artificial intelligence exhibition focusing on the business use of this technology.
From deep learning to machine learning, a wide range of fields related to big data and marketing-related products are targeted for a wide range of businesses, especially those businesses that are considering to become more efficient.
Business AI runs concurrently with ITPro EXPO, Cloud Days, IoT Japan, etc. – so you will also be able to see the latest developments in these fields.
Event: Business AI 2017
Dates:October 11-13, 2017
Venue:Tokyo Big Sight, East Halls 4-6
Organizer:Nikkei Business Publications, Inc.
---
A Complete and Comprehensive Robot Exhibition – RoboDEX
---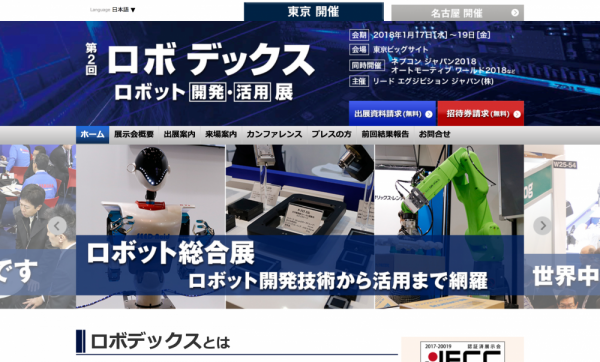 2nd RoboDEX – Robot Development and Application Expo
RoboDEX is a comprehensive exhibition about robots that will be held at the same time as NEPCON Japan (an electronics manufacturing and implementation exhibition) and Automotive World (advanced automotive technology exhibition).
Although it is not an exhibition specifically for artificial intelligence, robot artificial intelligence and deep learning control of robots will be showcased. RoboDEX will also be held in Nagoya in September 2018.
Having this exhibition in both Tokyo and Nagoya will offer many opportunities to see the latest application of artificial intelligence and related technologies.
Event:2nd RoboDEX
Dates:January 17-19, 2018
Venue:Tokyo Big Sight
Organizer:Reed Exhibitions Japan Ltd.
---
Asia's Largest "CPS/IoT" Exhibition – CEATEC JAPAN
---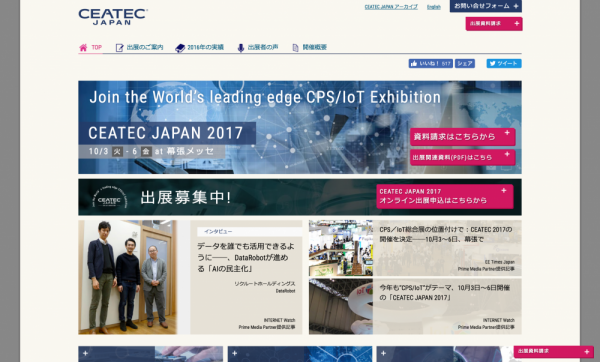 Since last year, CEATEC has expanded it's scope to include artificial intelligence technologies and information as part of its overall program.
Last year's AI – Artificial Intelligence Pavilion was very popular as well as the AI Conference which was led by CEATEC x AIST. Both will likely see expansions for 2017.
CEATEC is recommended for those who are interested in state-of-the-art technologies and their social impacts, as well as the ever-growing interest in AI technologies.
Event:CEATEC JAPAN 2017
Dates:October 3-6, 2017
Venue:Makuhari Messe
Organizer:CEATEC JAPAN Organizing Committee
---
Japan's Largest Network Computing Exhibition – Interop Tokyo 2017
---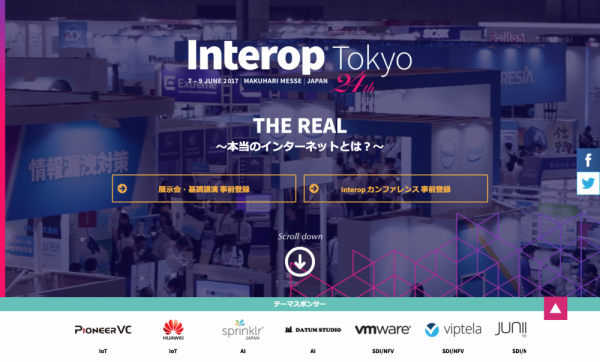 Interop is an exhibition that is mainly related to network computing, but of course artificial intelligence will also be an area of interest.

IoT×AI×5G World is a brand new signature event for 2017, showcasing the latest in IoT, AI, as well as the latest trends of the 5th generation of mobile communication.
In addition, the Security World and SDI/NFV zones will be available to those who are interested in the on-going importance of internet security and cloud infrastructures.
Event:Interop Tokyo 2017
Dates:June 7-9, 2017
Venue:Makuhari Messe
Organizer:Interop Tokyo Steering Committee
International Events
---
Global Summit of Artificial Intelligence – The AI Summit – GLOBAL SERIES 2017
---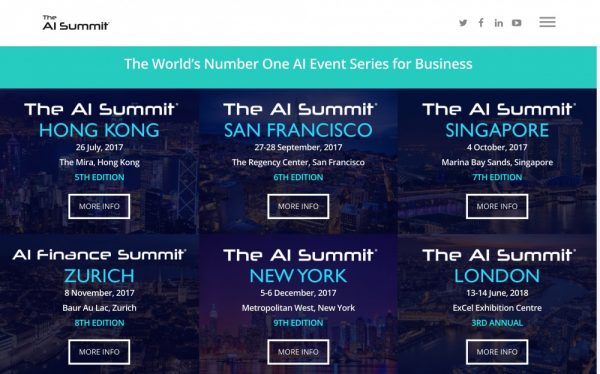 The AI Summit – GLOBAL SERIES 2017
The AI Summit, which is organized by London-based Futurum Media, is a global summit of artificial intelligence that will be held in several cities around the world.

Speakers from several industry leaders such as, Amazon Alexa、Google Cloud Platform、HCL、IBM Watson、Microsoft、Publicis.Sapient、PwC, etc., will share their updates and thoughts.
Event:The AI Summit – GLOBAL SERIES 2017
Hong Kong (THE MIRA):July 26
San Francisco (THE REGENCY CENTER):September 27-28
Singapore (Marina Bay Sands):October 4
Zurich (Baur Au Lac):November 8
New York (Metropolitan West):December 5-6
London (ExCel Exhibition Centre):June 13-14, 2018
Organizer:Futurum Media Ltd.
---
World's Largest Electronics Show – CES (Consumer Electronics Show) 2018
---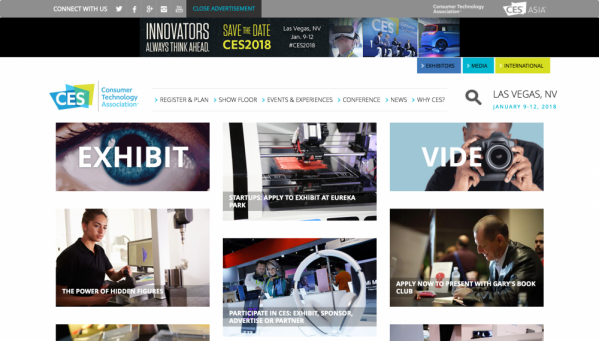 CES (Consumer Electronics Show)
If 2017's record-breaking numbers are any indication, CES is the world's largest consumer electronics show.
In 2016, Amazon's virtual assistant, Alexa, seemed to be everywhere. In 2017, after a full year of being incorporated into dozens and dozens of various home appliances and devices, Alexa could be seen everywhere yet again.
As speech assistance and artificial intelligence are closely related, we are looking forward to see how far Alexa progresses when 2018 comes around.
Event:CES (Consumer Electronics Show) 2018
Dates:January 9-12, 2018
Venue:Las Vegas Convention Center (Las Vegas, NV, USA)
Organizer:Consumer Technology Association (CTA), formerly the Consumer Electronics Association
---
One of the Leading AI Events in North America – AI World Conference and Expo
---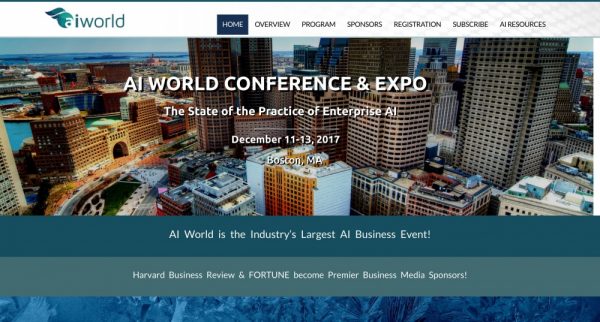 The AI World Conference and Expo will continue for the 2nd year that focuses on AI as well as machine learning.
AI World is targeted at decision-makers such as business leaders and corporate executives, so several distinctive workshops and conferences will be featured.
Although AI World was held in San Francisco in 2016, this year the venue will be changed to Boston.
Event:AI World Conference & Expo
Dates:December 11-13, 2017
Venue:Boston Marriott Copley Place (Boston, MA, USA)
Organizer:Trends Equity
---
World's Largest Developer Event – DEVELOPERWEEK CONFERENCE + FESTIVAL
---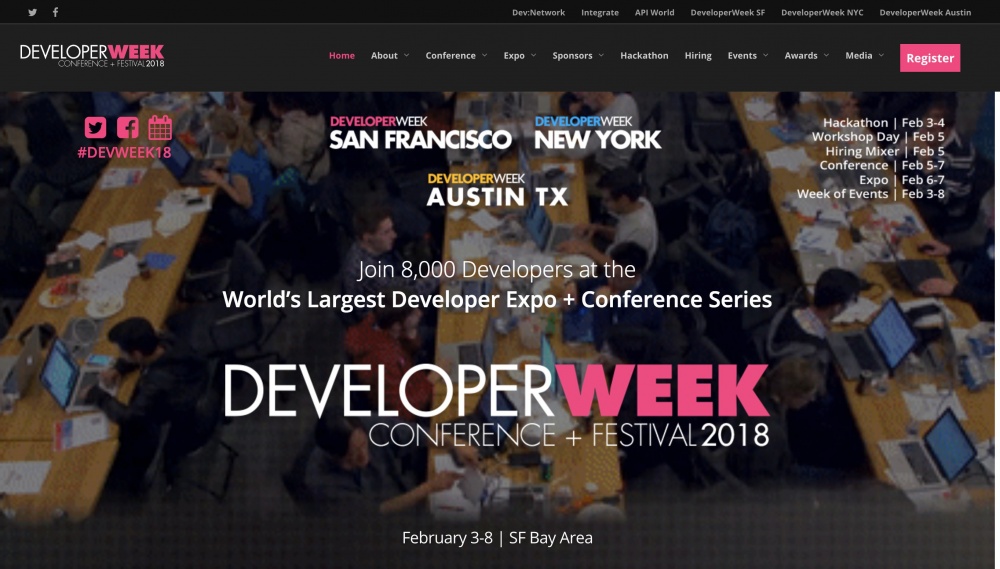 DEVELOPERWEEK is the world's largest conference series for developers and will be held at three locations in the United States.
The Artificial Intelligence Conference is scheduled to be held in Oakland in 2018, but details are limited as of this post.
Since DEVELOPERWEEK is an event for all kinds of developers consisting of various workshops and hackathons, just participating can yield benefits.
Event:DEVELOPERWEEK CONFERENCE + FESTIVAL 2018
New York (Brooklyn Expo Center):June 19-21, 2017
Austin (Palmer Events Center):November 7-9, 2017
Oakland (Oakland Convention Center):February 3-8, 2018
Organizer:DevNetwork
---
One of the World's Leading ICT-related Exhibitions – COMPUTEX TAIPEI
---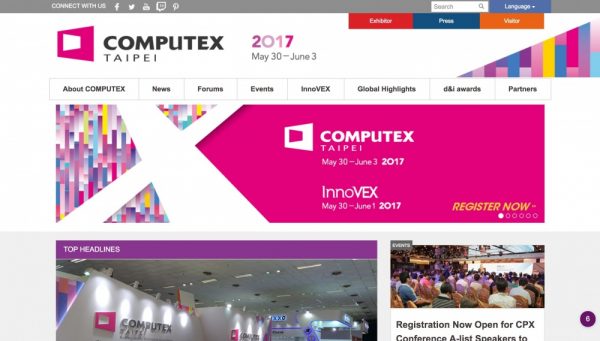 COMPUTEX TAIPEI's themes will center around AI & Robotics, IoT Applications, Innovation and Startups, Business Solutions, and Gaming & VR.
INNOVEX will run concurrently with COMPUTEX (May 30 to June 1, 2017), and will also feature similar themes, but is focused on up-and-coming, innovative startups.
Event:COMPUTEX TAIPEI
Dates:May 30 – June 3, 2017
Venues:Taipei Nangang Exhibition Center, Hall 1 (1, Jingmao 2nd Road, Taipei)
   Taipei World Trade Center Exhibition Hall 1 (5, Sec. 5, Xinyi Road, Taipei)
   Taipei World Trade Center Exhibition Hall 3 (6, Songshou Road, Taipei)
   Taipei International Convention Center (1, Sec. 5, Xinyi Road, Taipei)
Organizer:Taiwan External Trade Development Council (TAITRA), Taipei Computer Association (TCA)
---
The World's Largest Industrial Trade Fair – CeBIT
---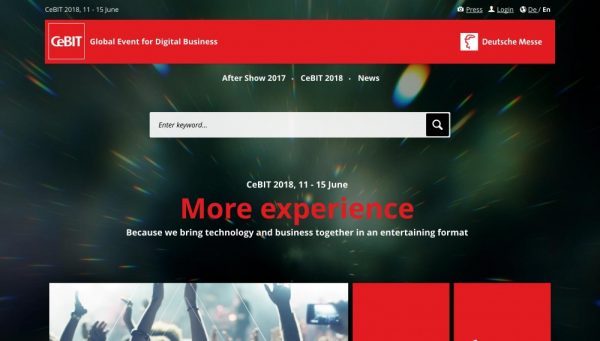 CeBIT – Global Event for Digital Business – CeBIT
At CeBIT 2017, the German Research Center for Artificial Intelligence (DFKI) and the Japanese National Institute of Information and Communications Technology (NICT) issued a joint Letter of Intent to expand German-Japanese cooperation in researching modern information and communication technologies.

CeBIT itself focuses on three technological themes: AI, VR, and IoT. As many industries around the world display their latest innovations at CeBIT, it is suitable to call it the largest industrial trade fair.

Though CeBIT is usually in March, from 2018 the dates have been moved to June.
Event:CeBIT 2018
Dates:June 11-15, 2018
Venue:Hannover Messe
Organizer:Deutsche Messe AG
---
As artificial intelligence information, innovations, and technology continues to grow steadily, the number of events specializing in AI will also grow.

Will you be participating in such trade fairs/exhibitions when the time comes?