Notes: This article was translated from Japanese and edited to stay as close to the original as possible.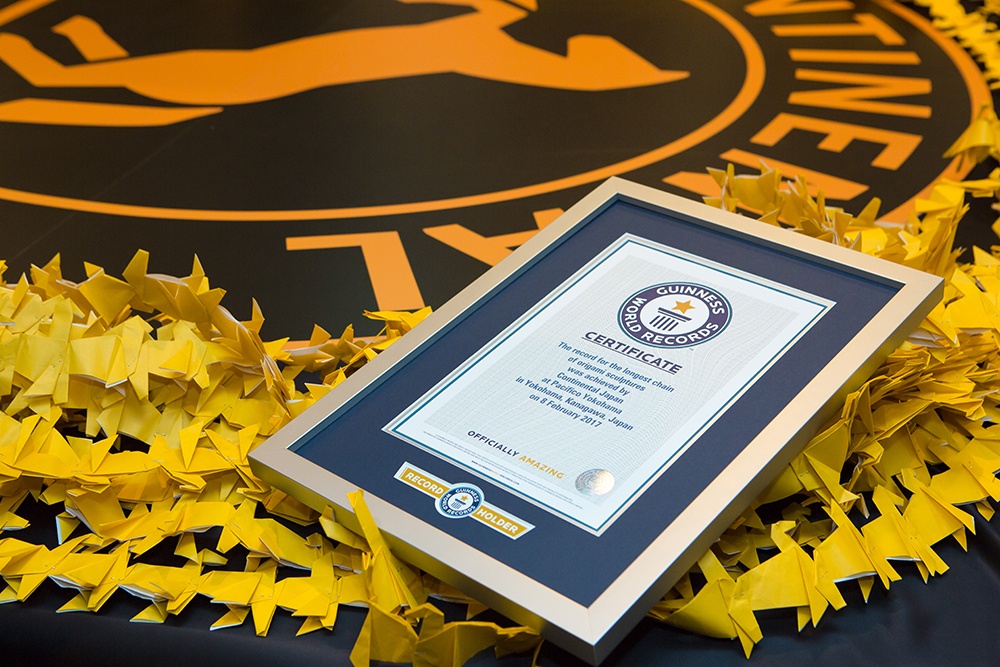 We aim to become "an organization moving towards the same goal as a team that has become one".
On a sunny yet cold February 8th、over 500 employees of Continental Corporation's Japanese business entity, *¹Continental Japan, the world's top automobile parts and systems supplier, gathered together at Pacifico Yokohama with great expectations.

(*¹ Continental Japan is a generic term for the entity in Japan of Continental, a worldwide automotive supplier based in Germany. Continental Japan consists of five divisions: Chassis & Safety Department, Interior Division, Powertrain Division, Tire Division, and the Conti Tech Division, with approximately 1,300 employees.)

The aim: to become a united team, "One Continental" .
The goal: break the Guinness World Record through the "One Continental Challenge".
Management-level personnel most likely thought of the following one time or another:
"The company's vision and philosophy hardly permeates through our employees."
"I want more voluntary action by our employees."
In recent years, attention has been focused on the concept of "engagement", not only to create a close relationship with customers and users, but also the importance of "employee engagement".
Employee engagement is to build a mutual contributory relationship between companies and employees, to reduce personnel losses and to acquire sustainable growth. Through a *study and survey conducted by Willis Towers Watson, companies with high employee engagement experience a higher gain in sales, and employee engagement is practiced in many companies including major global companies.
Continental Japan is such a company that is actively committed to this kind of engagement, and this time also achieved it through their goal – to break into the Guinness World Records®.

Instead of the usual Paper Crane origami, Paper Horse origami was made to resemble Continental's logo
The goal was to create the "Longest Chain of Origami Sculptures" that's currently a Guinness record, which up until this point was 1,988 origami linked by Janssen – EMEA Strategy Organization in Berlin, achieved in 2016. This time, Continental Japan's employees took up the challenge with a goal of linking 2,020 Paper Horse origami.
At first, the handful of foreign staff who were not familiar with origami worked with their Japanese counterparts, and the pace picked up steadily afterwards. One after the other, the horses were linked to create a chain that surpassed their original goal with a total of 2,855 Paper Horse origami!

"This experience has molded us into a team that keeps their hands together and allows us to achieve our shared goals through collaboration."
Continental Japan's CEO, Bert Wolfram, leaves a comment as follows on realizing "One Continental" and on the team achieving their record:
At Continental, we provide "values of Trust, Passion for Victory, Independence/Autonomy, and Support" – values which are shared by the employees. "During this record challenge, all the participants were practicing these four values. With a passion for victory, we worked diligently and at the final stage of the mission when we finished linking the origami together, it was the most efficient. As for the best approach to effectively proceed, members shared their wisdom and worked together. We are proud of all of the processes, how we achieved the record, as well as achieving the Guinness World Record. Through collaboration, the experience has made us into a team that goes hand in hand and heads towards the same goal, and all employees will work together to provide better solutions for Japanese customers."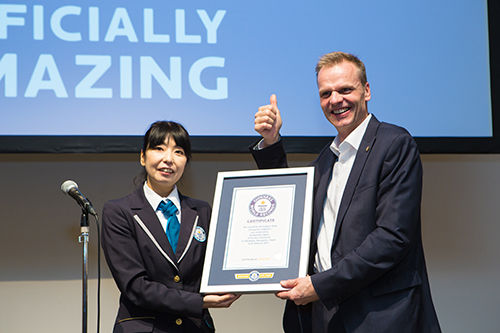 Guinness Official Certificate Award Ceremony (Right: Bert Wolfram, CEO)
In addition, Rie Honda, manager of the communication headquarters of Continental Japan, commented as follows:
"The task of each individual connects together, which becomes the task of several small teams, which in turn becomes a task by a larger team by further connecting it. What we found is that the challenge of the Guinness World Record is not so different from a task or goal that any individual organization is willing to achieve."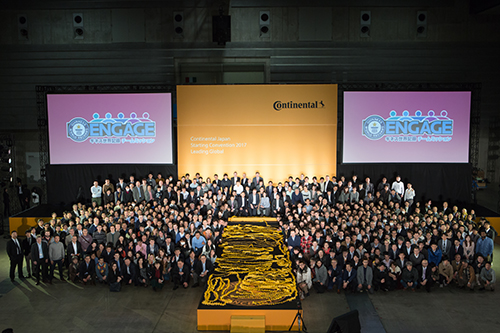 Group photo at the end
In the background of this experience gained together, there was a solution process to the challenge that could never be achieved by one person as mentioned in the comments of Mr. Wolfram and Ms. Honda. Each challenge is spontaneously explored by each problem, and the sharing process as a team further strengthens the solidarity. It was a moment when engagement of Continental Japan was achieved.

This unique experience of achieving this Guinness world record will be a great motivation for every employee of Continental Japan and will contribute to the further development in the future.
*Reference Sources (in Japanese)
Sustainable engagement of employees (sustainability of voluntary contribution motivation to the company) affects business performance|Press Release – Willis Towers Watson
*Comment References (in Japanese)
Continental Corporation – Continental Japan Achieves Guinness World Record® of "Longest Chain of Origami"
Guinness World Record ® "Team Mission" launched|Guinness World Records Japan Press Release
For this article, we would like to thank Continental Japan and Guinness World Records Japan for their cooperation, article references and consideration.
(Guinness World Records® is a registered trademark of Guinness World Records Limited.
---
Expo International Ltd. provided the following services and support for the "One Continental Challenge":
・Event Management
・Venue Management
・Audio / Video Equipment
・Production of Progress Planning
Please do not hesitate to consult us for your special events needs, whether it be management, installation, etc.
Please contact us through our Contact Page!